CORPORATE PHILOSOPHY [ ASSOCIATES WATER ]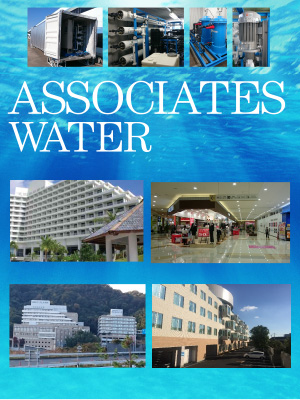 We suggest Advanced Energy Cost Reduction by More Low Risk Water Treatment Business.

We've been trying to Resolve Various Problems of Energy Costs which is Taking Advantages of the Expertise Gained in Many Years of Experience.

Customers doesn't need a large Investment that means Pay-Per-Proposal of Contingency "Rental system & Shared system".

We provide Excellent Proposal Ability included Safety, Amenity and Convenience,And Realization of Various Demands on Higher Level.

NEW INFORMATION & PAST HISTORY
Mar/25/2019

Exhibited at "WATER PHILIPPINES 2019 EXPO" held with in Pasay City(Metro Manila), Philippines.
[Date] March 20 (Wed)- 22 (Fri) 2019 | [Venue] SMX Convention Center

Feb/04/2019

Exhibited at "InterAqua 2019 -10th International Water Solutions Exhibition-".
[Date] January 30 (Wed)-February 1(Fri) 2019 | [Venue] Tokyo Big Sight East Exhibition Hall 1

Mar/01/2018

Newly Opened "WEST JAPAN BRANCH" to Naka-Ku, Hiroshima-City. Please click "here".

Nov/01/2017

Involved in Consulting Work on Renovating The Existing Plant, from The Waterworks Bureau of Dumai City, Indonesia. Facilities, and Meeting with Mayor and City Executives, Please click "here".

Oct/01/2017

Moved The Head Office of Saipan Local Corporation "JAPAN WATER SYSTEMS CNMI CORPORATION" for Business Expansion.
New Address and Contact Information of The Head Office, Please click "here".
Renewal & Replace Web Site/Home Page.>
Started Export business of Japanese Car to the World mainly in African countries and Central and South America.
Planning of Rental business that Condominium of Saipan Subsidiary Ownership "ANAKS OCEAN VIEW HILL".>
Become our wholly owned subsidiary company "WATER SYSTEMS CNMI CORPORATION" from JWS Corporation in Saipan
Established StarTechnos Co., Ltd.